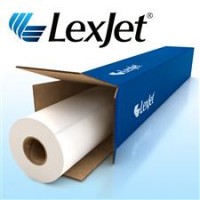 LexJet introduces a new product for see-through signage named LexJet FaceMount Perforated Window Grip available in 53″ x 82′ and 27″ x 12′ rolls. Offering 60% printable area and 40% clear area and 1.7mm hole size for eye-catching design without obstructing vision into the window. Combined with a low-tack adhesive feature that allows the printed design to be moved repeatedly without leaving a messy residue, this product is a step above previous signage products in ease-of-use.
In the solar performance window film world, we are also in need of a re-positionable architectural film product that doesn't rely on static cling and all the negatives found in static cling films:
reduced optical clarity
static attracts dust and dirt
hard to clean
Can this adhesive technology make its way to solar window film products as well?