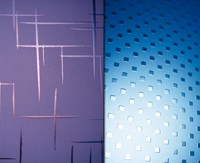 As spring rolls around, the classic spring cleaning tendencies start to kick in for many homeowners.  Maybe it is the winter season spent cooped up primarily indoors makes us yearn for a change, however small, within our homes.  There are many affordable small projects that give a home decoration a small kick in the pants!  This article by Mail Online gives a spring makeover idea list:
New paint job
New pictures and frames
Covers and trims for furniture
Use decorative window film
Self adhesive large wall stickers
We definitely agree that use of decorative film inside a house can bring a professional spa or hotel feeling to your plain rooms.  Some uses of decorative films are:
add privacy to glass
add fun and flair to bathroom sliding glass
reduce glare and add color to a room
With so many different types of frosts, textures, colors, and patterns to decorative film, it is really up to your imagination that limits what can be done.  Here are a couple of resource sites to consider when starting to explore the world of decorative window film.