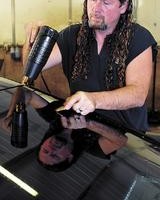 We like to highlight news stories that bring stories of window tint shops starting out and succeeding.  Here is a story from Sophia, WV about Kevin McKinney, the owner of Pro Tint Motorsports from the Register Herald.
His grandparents, Red and Elva, gave him $25 a week for allowance and when he started driving, he began mowing lawns for extra cash.

McKinney knew where he could get a good deal on long sheets of window tinting, so he saved his money and purchased some. During the weekends, he would tint his family and friends' car windows.

The word spread and more and more people started asking McKinney for window tinting.

"It really got me started. I've been very lucky."
Rest of the article available at the Register Herald.