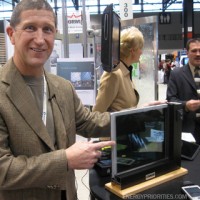 We have talked about next generation tinted windows on our blog where glass darkens in varying degrees due to electrical voltage applied.  This allows passengers of vehicles or owners of homes, to customize the level of tint required in a flick of a switch or a turn of a dial.  Sage glass has developed dynamic glass products which are installed at many schools such as Ball State University, Chabot College, and Kansas University.
Sage Glass has announced that they have been acquired by Saint Gobain, the mother company of SolarGard.  This seems like a natural acquisition as Saint Gobain wants to extend their sun control portfolio to not only the existing window film market, but also the future of dynamic tinting windows.
Quite obviously, there is some national pride that a successful US-based Minnesota company is being acquired by a foreign company.  Concerns over job cuts, outsourcing, and such are natural during acquisitions and tensions run higher than usual.   The crux of the hand-wringing seems to center around a $72 million loan guarantee to help build a larger factory for Sage that was never approved by the US Energy Department.
CEO of Sage Glass dismissed the concerns by saying that the deal would have taken place whether the loan passed or not.   Good on Saint Gobain for snapping up a quality company.