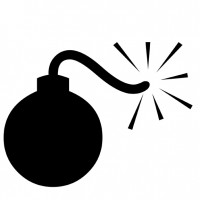 Nobody would want this explosive situation to happen to them.  5 AM and you are peacefully sleeping when a bomb is thrown at your home and explodes!  A Fort Lauderdale home was wrecked by an explosion knocking out 3 windows.
The residents say that if window tint was not installed on the windows, the explosive package would have landed dangerously close to the parent and baby sleeping inside the room.  Instead, the package exploded outside the home, but it still had enough explosive force to knock out the entire set of windows and cause severe smoke damage.
Home tint, similar to car tint, does strengthen the glass as well as hold the glass together due to its adhesive nature.  True protection films can be 5 times thicker than standard solar home tint, and the strength of such films in shielding from explosions or hurricane winds go up exponentially.
Home tint benefits usually run the gamut of blocking UV and solar rejection to "It looks good."  To this family, home tint has a whole new meaning: "It saved our lives."