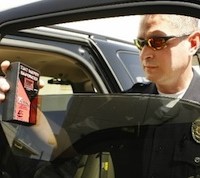 The car directly ahead of you has just committed a traffic violation. It's dark out and the city's countless lights are at battle with one another in your visual landscape and the recent rain left reflective puddles all over the street. You notice that all of the windows on the car in question are darkly tinted. You can't even make out clearly how many passengers are in the car.
You activate your overhead lights and the driver pulls over immediately, barely giving you time to stop at a safe distance. You get out of your car with your high powered flashlight in hand. Headlights from oncoming traffic are making it even harder to take in all the sights. In fact, your own flashlight beam is nearly useless against the dark of the window tint.
The driver's window is lowered; to your relief, an elderly woman with a poodle in her lap greets you with a large smile. This exchange went well. Turned out to be nothing more than a driver distracted by an active poodle.
To a street cop on patrol in most medium sized cities in America, this scenario maybe replayed as many as 20 times every eight hours. The car stop is statistically the single most dangerous activity an officer can engage in and it can be even more dangerous when a car's windows are tinted.
While we all are able to accept that the reason for window tinting laws is officer safety, it is often surprising the degree to which these vehicle code laws vary from state to state. If you look at just the rules regarding the tinting of the front side windows in four states- California, Arizona, Maine and Florida-the differences are noteworthy.
The other restrictions regarding reflectivity, the need for outside mirrors and degree of light penetration are equally as varied. Added to these state-to-state variations is the fact that enforcement may differ as well.
The importance placed on enforcement can really be an issue for the owner of a car. He may have a vehicle that is not in compliance with state law but enforcement in his local town may be very indifferent. The driver of the same car may enter a large city in the same state and be immediately stopped for improper window tinting.
The important thing to remember is that it's your responsibility to know the laws about car window tints in your state before you go to the retailer for application. This way, you know you will be getting the product and service that does you more good than harm.