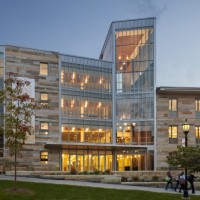 It is the architecture of universities which often defines their presence within a community, reflecting leadership in thought and progressive ideology. Many universities are leading the way to showcase buildings which promote energy efficiency and conservation of resources while still providing stunning architectural detail. The days of  staid and stuffy campus structures covered in ivy are falling away to updated versions which more closely reflect our times.
The Leadership in Energy and Environmental Design (LEED) was developed by the U.S. Green Building Council to provide the building industry with a framework for implementing green building design, construction, operations and maintenance solutions. The five LEED categories addressed by building project managers include a sustainable site, water usage, energy and atmosphere, materials and resources and indoor environmental quality. The sixth category is innovation and design. LEED certification is not merely indicative that a building is a better steward of the environment but it also signifies that the building is a healthier place for humans within the building
The 200,000 square foot, University of Scranton's, LEED Silver Loyola Science Center is an innovative nod to sustainable design which features glass walled laboratories, an atrium, a vivarium and a rooftop greenhouse. The Loyola Science Center earned LEED Silver certification through use of local materials, energy-efficient lighting and heating systems, a heat recycling system which captures exhaust air using a heat exchange wheel, and efficient water fixtures.
Natural light floods the building comprised of classrooms, laboratories, offices, lecture hall and informal learning spaces.  The Loyola Science Center has four complete floors, a partial ground floor and a rooftop greenhouse/observation deck, affording expansive views of the city over the Central Scranton Expressway.
Perhaps the most innovative feature of the design is the replacement of solid walls with glass walls that can be written on.  These glass walls are present between study areas, laboratories and hallways designed to promote interaction. The unique glass walls encourage human interaction through an environment that unites many disciplines. The mathematical equations and formulas written on the glass walls are visible reminders to all that within this building collaboration is contributing to progress in scientific research in biology, mathematics, chemistry and physics.  The occupants of the Loyola Science Center praise the incredible light and openness that makes the space a desirable place to be for faculty, students and staff.
Dr. George Gomez, Ph.D., Associate Professor of biology and a member of the science center's steering committee, noted that stones from a quarry on West Mountain provided stone used in the building's construction. "You can see where it's from; you can see it now," he said. "Hopefully in the future, you can see where it's going."
Universities can lead the way in gaining support for the notion that sustainability is achievable both through research and by example. Massive lecture halls are being replaced by environments which encourage intellectual development, creativity and community. The Loyola Science Center reflects a youthful energy in its' modern design and the flexible spaces encourage an atmosphere of learning and innovation. Centers of learning advance so many aspects of the human condition-why not include the concept of environmental sustainability?