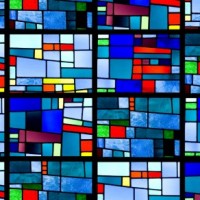 Window film always has had a reputation for being an energy-efficient addition to the decor of any home. Its value as a means of blocking ultraviolet rays and protecting eyes has also been touted by optometrists and other doctors. Window film has artistic value to it. Its colors and shapes can add eye catching detail to ordinary window glass. Window film in the form of geometric figures can create arresting pieces of visual artistic display.
Geometry is no stranger to the art world. It was used in ancient Greece and geometric abstraction is a widely accepted form of 20th-century modern art. Window film can be bought in any number of patterns and geometric shapes is one of them. A homeowner can take these precut shapes and attach them directly to the windows of the residence. The result is a very modern almost Cubist presentation that immediately adds to the ambience of the room. It's possible to have stained glass window film, which does include geometric shapes in the contours and substance. However this might be a little bit too much miniature geometry for the tastes of some people, and the larger geometric figures have a more modern, technical art appeal to them.
The utilitarian elements of window film itself should not be ignored. Art is fantastic, but if it is also useful that increases the overall value to a homeowner. It's wonderful to have various rectangles and triangles on the window pane, but it is best for the residence if that same art film has the ability to block out ultraviolet rays and conserve energy. Those elements of window film should be a part of any shopping tour to find the right designs. It's also good to remember that geometric art can be a lot of fun. Shapes are already created so an amateur artist/DIY enthusiast can let his or her imagination roam free as the window becomes a transparent canvas on which to create. While some ideas can be drawn from the modern art wing of a museum, Islamic art also has some ideas that person can use to turn the study window into an artistic masterpiece.
Avalon is a pattern of window film that has geometric figures and space. It also has the fundamental qualities of good window film. Something a person may want to consider doing is little experimenting with the window film. For the sake of art, a person could put window film on those areas of the window where there's a desire to block sunlight, such as where it looks onto a couch or desk, and not put film in other areas. The result can be a contrast of shade and light that could look extremely attractive. It's up to the homeowner to decide how best to use the medium. Window film can be a visual delight as well as being very efficient. Geometric art is something that window film can easily accommodate and the combination can create a wonderful display of art and light in any domestic space.